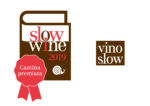 Our Fatalone organic and sustainable wines confirm their presence in the internationally renowned guide, Slow Wine. In particular, our Fatalone Gioia del Colle DOC Primitivo Riserva 2015 received the recognition of "Vino Slow".
As stated on the Slow Wine website, "the SNAIL PRIZE is awarded to wineries whose values (high quality wines, originality, and respect for the land and environment) align with the Slow Food movement. Quality-price ratio is another factor that our editors consider."
We are proud and honored to embody the Slow Wine characteristics.