Product name:

FATALONE® Primitivo Riserva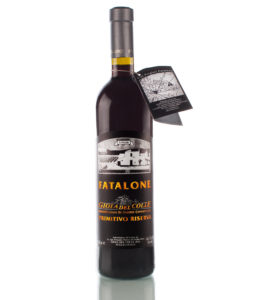 Denomination:

GIOIA DEL COLLE D.O.C. PRIMITIVO RISERVA
Vintage:

2015
Production:

15.000 bottles
Provenance:

Murgian rocky hill within the territory of Gioia del Colle, in the locality of Spinomarino, 4,5 km to the South East of the town. Karstic rocky soil, omogeneous mix of clay and limestone
Grape:

Primitivo 100%, certified organic, only locally grown grapes from our own vineyards.
Growing System:

A modern espalier version of the Alberello Pugliese with double head to fruit.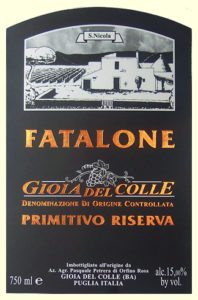 Vineyard management:

Organic farming, No irrigation and Spontaneous grassing with green manure
Harvesting time:

Mid September
Yield:

6000-7500 kg/hectare or 40-50 hl/hectare
Vineyard Features:

Planted in: 1990
Altitude: 365 m above sea level
Size: 8 hectares
Orientation: North-South
Density: 4000 vines/hectare
Lane: 2,20 m
Vine Gap: 1 m
Vinification:

Organic process: Spontaneous fermentation of the must in contact with the skin for 240-300 hours at controlled temperature and just with autochthonous yeasts. Open-cycle process with frequent pumping of the must over the pomace. Natural malolactic fermentation. No addition of sulphites during the whole vinification process. Only after the end of the malolactic, re-integration of the sulphites lost during the vinification steps to restore the initial natural value.
Alcoholic content:

15% by vol.
Ageing:

12 months in wine stainless steel tanks, 12 months in Slavonic oak 750-liter-casks with the application of music therapy to optimize the spontaneous microxigenation process and improve the fining of the wine, 6 months in bottle.
Main Features:

Ruby red intense colour with slight burgundy hues. Scent typical of very ripe fruits and slightly toasted wood and spices, with some balsamic notes. Full bodied, rich in minerality and freshness, balanced smooth taste of black sour cherry and plum tending to velvety with ripe fruity notes of blackberry and mulberry, and spices like clove and cacao. The feature that makes our natural authentic Primitivo of Gioia del Colle unique is the toasted almond aftertaste.
Best at temperature:

18°- 20°C
Best with:

Strong flavoured dishes like pasta with gravy, roasted beef, game, grilled meat as well as fish and aged cheese. The Riserva is also particularly pleasant with dark chocolate sweets.
Further information:

The particular though unusual affinity of our red wines with spicy dishes of fish, is due to the marine origin of the rocky land where the vineyards are located. This assertion is confirmed by the finding of sea fossils during the preparation of the soil for the plantation.