Product name:

FATALONE® Bianco Spinomarino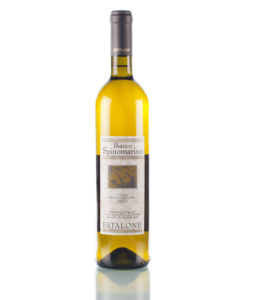 Denomination:

PUGLIA I.G.T. GRECO
Vintage:

2018
Production:

4.500 bottles
Provenance:

Murgian rocky hill within the territory of Gioia del Colle, in the locality of Spinomarino, 4,5 km to the South East of the town. Karstic rocky soil, omogeneous mix of clay and limestone
Grape:

Greco 100%, certified organic, only locally grown grapes from our own vineyards.
Growing System:

Pergola with two to four heads to fruit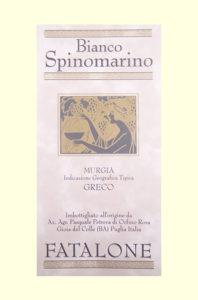 Vineyard management:

Organic farming, No irrigation and Spontaneous grassing with green manure
Harvesting time:

First half of October
Yield:

6000-7500 kg/hectare or 40-50 hl/hectare
Vineyard Features:

Planted in: 1990
Altitude: 365 m above sea level
Size: 0,5 hectares
Orientation: North-South
Density: 3000 vines/hectare
Lane: 2,20 m
Vine Gap: 2 m
Vinification:

As for a classical white wine with soft pressing after a short maceration in contact with the skins for 24h. Spontaneous fermentation at controlled temperature and only with autochthonous yeasts. Natural malolactic fermentation. Only after the end of the malolactic, re-integration of the sulphites lost during the vinification steps to restore the initial natural value.
Alcoholic content:

12,5% by vol.
Ageing:

6 months in stainless steel tanks, 3 months in bottle
Main features:

Brilliant golden yellow colour, with pale green hues. Delicate bouquet of spring flowers, with the heady scent of flowering grapes, green apple and pineapple, mixed with a mild note of honey. Smooth, pleasant, balanced taste of apricot, yellow plum, green banana and honey. Great minerality and freshness to exalt the complexity of this wine.
Best at temperature:

12°- 15°C
Best with:

A very versatile natural authentic wine: a great match with fried foods, salads, seafood appetizers and grilled vegetables and fish. Excellent with fresh cheeses, mozzarella and light soups. Outstanding match with pizza and excellent as an aperitif.
Further information:

Greco, a noble table wine, reaches its best after one year of fining and can age in bottle for 7 years.