Product name:

FATALONE® Teres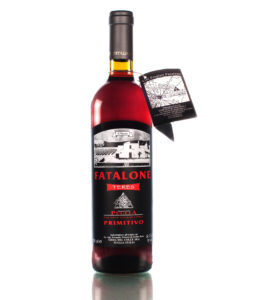 Denomination:

PUGLIA I.G.T. PRIMITIVO
Vintage:

2018
Production:

6.000 bott.
Provenance:

Murgian rocky hill within the territory of Gioia del Colle, in the locality of Spinomarino, 4,5 km to the South East of the town. Karstic rocky soil, omogeneous mix of clay and limestone
Grape:

Primitivo Racemi 100%, certified organic, only locally grown grapes from our own vineyards
Growing System:

A modern espalier version of the Alberello Pugliese with double head to fruit.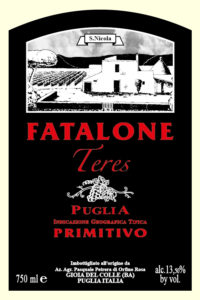 Vineyard management:

Organic farming, No irrigation and Spontaneous grassing with green manure
Harvesting time:

Mid October
Yield:

1000-1500 kg/hectare or 7-10 hl/hectare, made with Racemi
Vineyard Features:

Planted in: 1990
Altitude: 365 m above sea level
Size: 8 hectares
Orientation: North-South
Density: 4000 vines/hectare
Lane: 2,20 m
Vine Gap: 1 m
Vinification:

Organic process: Obtained from free-run must of Racemi before pressing, with a spontaneous fermentation in contact with the skins for 30 hours almost like for a rose wine, at controlled temperature and just with autochthonous yeasts. Natural malolactic fermentation. Only after the end of the malolactic, re-integration of the sulphites lost during the vinification steps to restore the initial natural value.
Alcoholic content:

13,5% by vol.
Ageing:

6 months in wine stainless steel tanks, 3 months in bottle.
Main features:

Sunset red colour, tending to ruby, lively and brilliant; scent typically fruity; balanced and very pleasant taste of cherry and berry fruits, rich in minerality and freshness. Great to drink slightly cool during the Summer
Best at temperature:

15°-18°C.
Best with:

A very versatile wine: a great match with fried foods, salads, seafood appetizers and grilled vegetables. Excellent with fresh cheese, roasted beef and various kinds of hams. Ideal match with pizza.
Further information:

When we approach this particular natural authentic wine, we must bear in mind it's a light red wine from every point of view, without being misled by the colour, which is similar to an intense rose. Our ancestors produced this wine because they wanted to have a wine, structured like a Primitivo red wine, which could be enjoyed at cooler temperatures during the Summer.