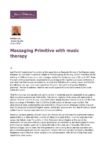 On the 7th of March, we celebrated in London the 30th anniversary of the Fatalone brand. We held a vertical tasting with 15 vintages dating back to 1988 of our Fatalone Gioia del Colle DOC Primitivo Riserva. While our main focus remains on making an  organic, natural and sustainable wine, the event was of primary importance to us as we continue in our quest to affirm that Primitivo is also a wine that can age and it does so  gracefully.
That day we were honored with the presence of Mr. Walter Speller, an internationally renowned wine writer and critic. Mr. Speller is in charge of the Italian wine reviews for Jancis Robinson's blog "Purple Pages," an important reference for wine enthusiasts and critics worldwide.
In his article, "Massaging Primitivo with music therapy" published in June 2018, Mr. Speller magnificantly narrates the vertical tasting while adding some history of the Primitivo grape and wine in the region of Puglia. He reflects on our use of music therapy in the cellar and notes that "the idea is not as insane as it may sound." In the end, he draws the following conclusion:
"Whatever the effect of sound waves, the 16 wines below more than convinced me of the ageing capacity of Primitivo as well as its complexity, provided it is in the right hands."
We are thrilled with his final comment because in the end our Primitivo, made only with our own locally grown grapes, remains above all an authentic expression of our territory.
At the end of Mr. Speller's article, you'll find his detailed notes on each of the vintages we presented in London.
You can visit Jancis Robinson's blog at www.jancisrobinson.com