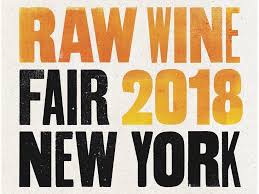 For the first time this year, we presented our Fatalone Organic Wines at Raw Wine 2018 in New York City.  RAW WINE brings together "over 140 of the world's best low-intervention organic / biodynamic/natural wine growers." We introduced all of Fatalone wines: Gioia del Colle DOC Primitivo Riserva, Gioia del Colle DOC Primitivo, Puglia IGT Primitivo "Teres" e il nostro vino bianco, Puglia IGT Greco "Spinomarino".
To be a part of Raw Wine, our wines had to pass a strict selection process. Thankfully, Raw Wine Fair's entry requirements are in complete agreement with our own philosophy of producing organic wines, using only our own hand-picked grapes, low levels of sulphites, spontaneous fermentation and sustainable practices without sacrificing quality and taste.
We were particularly proud to have been the only winery representing Puglia in this wonderful event.